SOLD! THIS BIKE IS SOLD. WE DO NOT HAVE ANOTHER ONE.

Anyone want to buy a really neat bike I built this last fall? I purchased an old Schwinn Racer from a girl in Pasadena back in 2010 which turned into the bike you see above (and below).


I had the bike powder-coated and then swapped in a bunch of new components (except for the stem, bars, and grips – the patina reminds you of the bike's history). The frame is 21″ (about 54cm) and is cool for people with a 30″ inseam to a 34″ inseam. Your inseam is from your ankle to your crotch (google it if you're not sure!).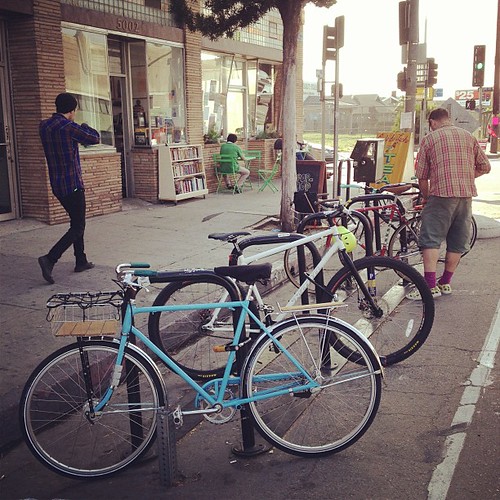 The wheels are 26 x 1 3/8 (590mm) Sun CR18's built around a front Sturmey-Archer XFD drum brake hub and a rear Sturmey-Archer S2C kick-back two-speed. The seat post, basket, fenders, and rear rack are from Wald (a Kentucky based component manufacturer). The bottom bracket is a sealed ball bearing one-piece with some Black Ops BMX cranks and Sunlite BMX platform pedals.
I installed some Schwalbe Marathon Plus tires, which are sluggish but have already saved me countless flats riding through Lincoln Heights, DTLA, El Sereno, and across the county a bunch of times.
The Brooks Flyer saddle is part of the deal as is the cargo net on the front basket. The little blinky lights you see in the pictures are NOT part of the deal
I've ridden the bike every once in a while since finishing it back in August of 2012. I finally found a Sprague-style kickstand to complete the bike about two weeks ago … and then the magic wasn't there anymore for me. Maybe you'll feel the spirit of the 1960's city bike riding coursing through you once you give it a test ride.
SOLD! THIS BIKE IS SOLD. WE DO NOT HAVE ANOTHER ONE.
$500 plus tax, and it's a sweet deal to be sure.
Once it is gone, it is gone.
Stop by the shop during business hours to see it. I am not going to hold it for anyone, first come, first served.
SOLD! THIS BIKE IS SOLD. WE DO NOT HAVE ANOTHER ONE.